SAVOIA Renewable equipment
---
AFFORDABLE SOLAR COOKERS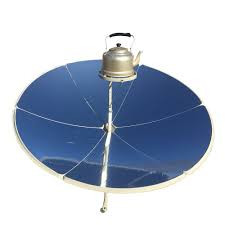 Parabolic solar cooker dishes


Parabolic vacuum solar cooker
trough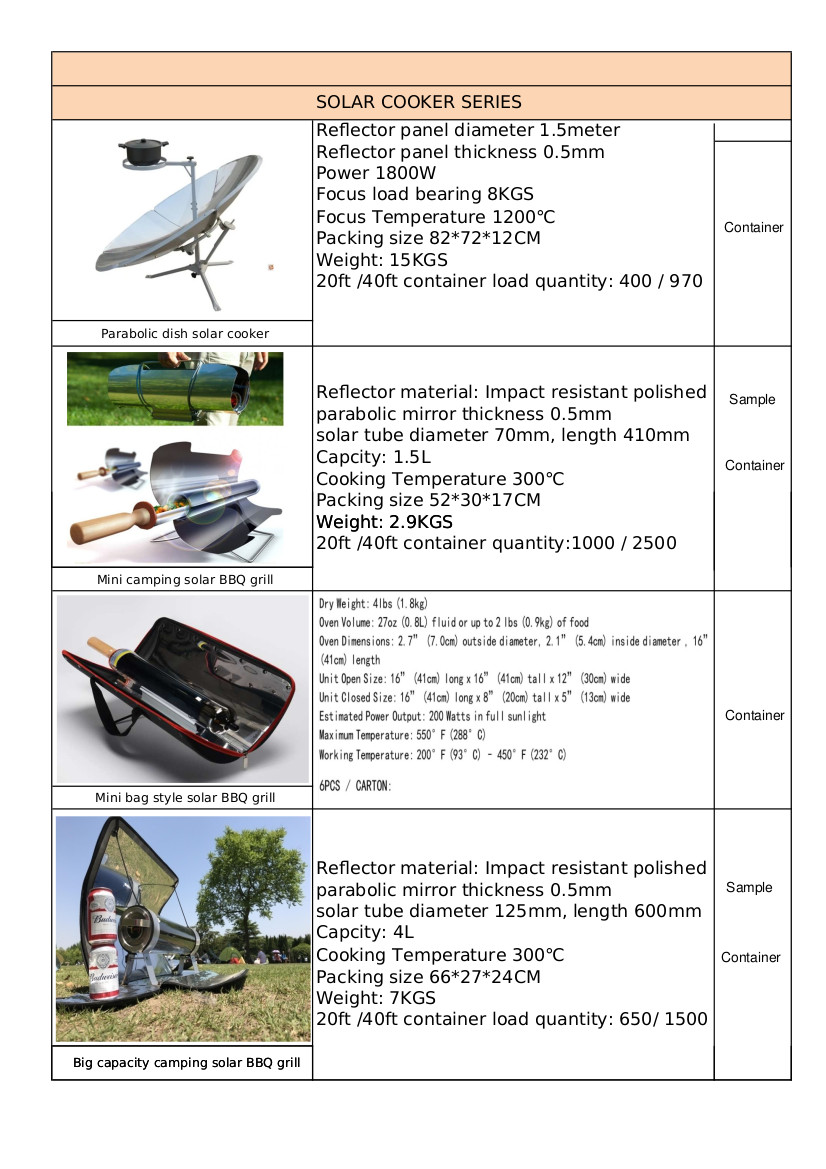 NEW!! Affordable home heating with our vacuum pipe AIR solar heaters!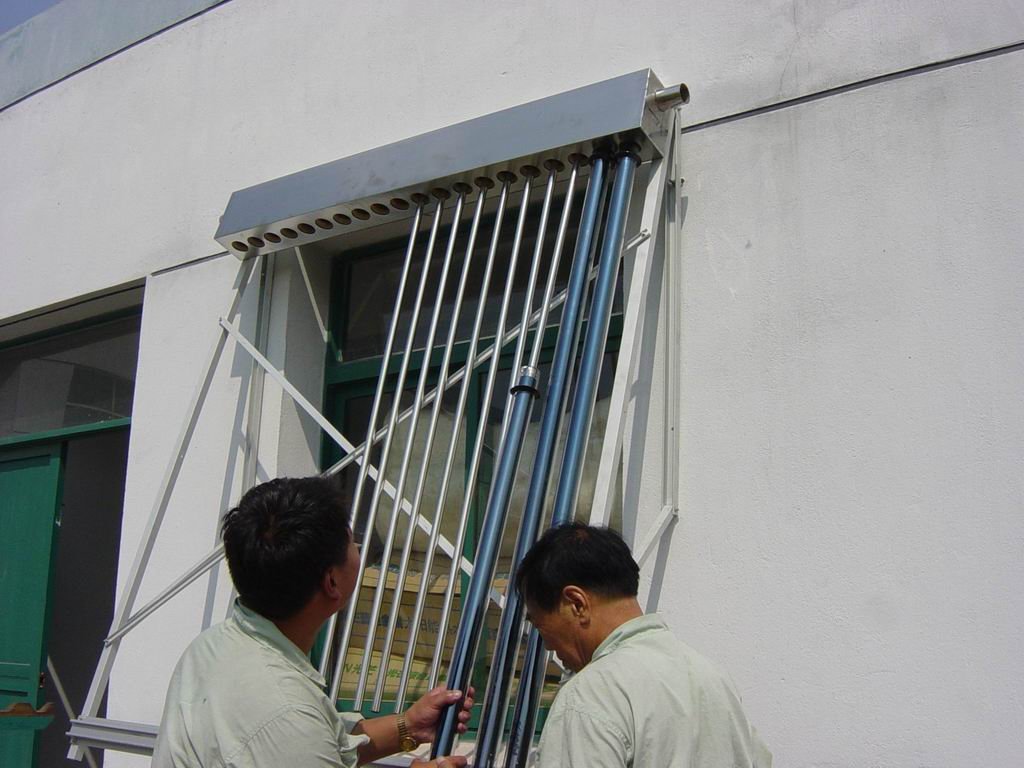 They heat 15 m3 of room each 1m2 of colector. Consult here!

High efficiency vacuum pipe water solar heaters
Water temperature in tubes will reach 100 °C in 2.5 hours at full sun radiation. Each tube has 1,35 L water.
INTEGRATED THERMOSIPHON SYSTEMS
Water tank diameter: 470 mm
SEPARATED COLLECTORS FOR PRESSURIZED SYSTEMS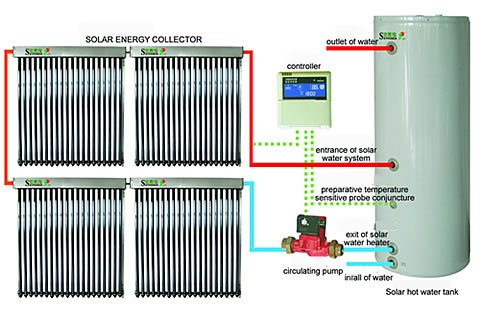 | | |
| --- | --- |
|  Flexibility: |    |
| | |
1.blocking design, easy assembled
2.It can be mounted on sloping roof or wall without frame.
| | |
| --- | --- |
|  Adaptability: | |
| | |
1.suitable for each county
2.adjustable frame degree 23~ 46º
Technical data for solar pressurized collector
MODEL

Absorber area(m2)

Tubes vacuum

Supply hot water

(L each 6h )

FOB Prices U$S

diameter

length

No.

1500/47-18

0.90

Φ47mm

1500mm

18

120

340

1500/47-20

1.00

Φ47mm

1500mm

20

125

380

1500/47-24

1.20

Φ47mm

1500mm

24

150

450

1500/47-30

1.50

Φ47mm

1500mm

30

180

570

1800/58-18

1.44

Φ58mm

1800mm

18

150

424

1800/58-20

1.60

Φ58mm

1800mm

20

175

470

1800/58-24

1.92

Φ58mm

1800mm

24

220

566

1800/58-30

2.40

Φ58mm

1800mm

30

260

710
MAIN FEATURES
Effective and applicable:
It adopts the efficient AL-N/AL heat absorption coating vacuum pipe heat collector.It has high absorptivity,low emission rate.The fully stainless steel mirror reflector plate has higher reflection efficiency.It effectively enhancesthe thermal efficiency of the solar energy water heater. 145 lt water will be reach 85 °C in summer and 65 °C in winter
Superior all glass vacuum heat collecting tube.The outer casing of the tank adopts the excellent quality stainless steel with strong corrosion-resistance. The inner body employs the imported SUS304 stainless steel welding for shaping.It has features such as strong erosion-proof,long life.non-pollution to the water,clean and hygiene.
All-weather hot water supply
It may install the auxiliary heating system according to the requirements.It is allocatd with the solar energy water heater controller with multiprotection functions such as water temperature,water level display,auto power-off etc. It ensures the customers to get the satisfactory hot water under the circumstances such as cloudy. rainy days,or days with insufficient sunshine and so on.
Energy-saving and environmental protection
Non-pollution,effectively protect the environment,environment,energy saving,extremely low use cost at ordinary times.Once invested,you will benefit from it forever.You may withdraw the cost within 2 or 3 years The product use life is as long as above 15 years.
Large water supply amount,it fully satisfy the living purpose hot water for various storeys such as shower;cleaning;clothes,bowls and vegetables washing etc. When the multiple solar energy water heaters are linked one another,the are suitable for the collective central heatwater projects such as schools,hospitals,office buildings and so on.
It elaborately designs the reflector plate angles according to the different latitudes in the southers and northern areas in order to guarantee the finest heat-collecting effect of the vacuum pipes
17/08/22